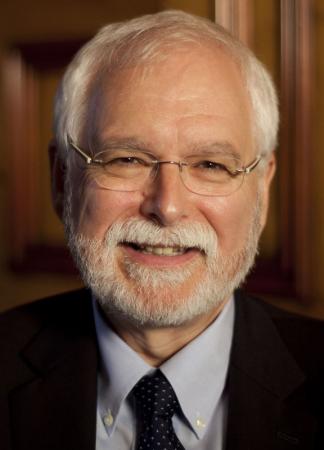 John P. Donoghue PhD '79, the Henry Merritt Wriston Professor of Neuroscience and Engineering and director of the Brown Institute for Brain Science, has been elected to fellowship in the American Academy of Arts and Sciences. Donoghue, a pioneer researcher in brain-computer interface, is the 34th current Brown faculty member elected to AAAS fellowship.
PROVIDENCE, R.I. [Brown University] — John P. Donoghue, a Brown University neuroscientist and Department of Veterans Affairs researcher whose pioneering work has led to the development of an interface that links the human brain directly to digital devices such as computers, has been elected to the American Academy of Arts and Sciences, the AAAS announced today.
"I am deeply honored to be elected as a fellow of the academy," said Donoghue, the Henry Merritt Wriston Professor and director of the
Brown Institute for Brain Science
. "To me, this is a recognition of spectacular work by a large group of faculty and students in brain science here and at our collaborating institutions and has been made possible by the remarkable interdisciplinary environment at Brown."
The work Donoghue referred to is the development of the
BrainGate
brain-computer interface. The investigational system, now in pilot clinical trials, is a combination of hardware and software that uses tiny implanted electrodes to detect electrical signals produced by neurons in the brain that control movement. The system decodes those signals and translates them into digital instructions to give people with paralysis control of external devices such as computers, robotic assistive devices, or wheelchairs.
The BrainGate team, which consists of scientists, engineers and physicians at Brown, the Providence VA Medical Center, and Massachusetts General Hospital, including co-director Leigh Hochberg, is also engaged in research aimed at giving people control of advanced prosthetic limbs.
Decades of leading neuroscience
Donoghue's neuroscience career began in 1979 when he earned his Ph.D. at Brown after earlier studies of biology and anatomy at Boston University and the University of Vermont. He returned to Brown in 1984 as an assistant professor. He is now professor of neuroscience and engineering at Brown and a senior research scientist at the Providence VA Medical Center.
For decades, Donoghue has studied how ensembles of neurons in the brain plan and produce the signals that command the body to move. To do that, his lab uses arrays of 100 electrodes to listen to the chatter of many brain cells at once. This fundamental research led to the translational BrainGate project.
While he has developed his own research into an internationally recognized technology with significant clinical potential, he has also presided over the rapid rise of broader brain science programs at Brown. From 1992 to 2006 he served as inaugural chair of the Department of Neuroscience at the University, and in 1999 he spearheaded the formation of Brown's Brain Science Program, which became the Brown Institute for Brain Science in 2009.
The Brown Institute for Brain Science brings together more than 100 faculty members in 15 academic departments at Brown and its affiliated hospitals. The institute is a catalyst for interdisciplinary research on the mind and brain, neurotechnology, and medical applications, as well as "smart technologies" that employ computation modeled on how the brain works.
Donoghue's work has earned other significant awards. In 2006, he was inducted as a fellow in the American Institute for Medical and Biomedical Engineering. A year later he won the K.J. Zülch Prize, awarded by the German Reemstma Foundation and Max Planck Institute. A year later he became a fellow of the American Association for the Advancement of Science and in 2009 won the In Praise of Medicine Prize of the Erasmus University of Rotterdam, Netherlands. He received the 2010 Senior Roche Award for Translational Neuroscience.
Donoghue joins 211 other leaders in academia, business, public affairs, the humanities, and the arts in this year's class of academy honorees, which includes two Nobel laureates and a Pulitzer Prize winner.
"I am humbled to be included among the ranks of its highly distinguished members," Donoghue said.
Including Donoghue, Brown University has 34 faculty members who are fellows of the American Academy of Arts and Sciences.